The bounds of ICT are limitless indeed, especially when looking at Christmas Gifts. Some observers are even saying that this is the "killer" software application of the year !
The new one here for 2009 is the "Barbie Doll'd Up Nails", also known as the "Barbie Nails Digital Nail Printer".
This exciting new technology involves a special printer that prints patterns directly onto fingernails.
Expensive professional digital nail printers have been used in nail salons for a while, but this is the first time a domestic machine has been made available to the general public.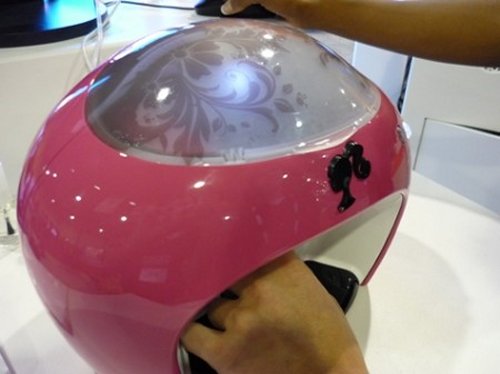 The printer uses thermal inkjet technology combined with a specially-formulated cosmetic grade ink to print directly on the nail surface in full color. You simply place your finger in the specially designed finger slot, a digital camera takes a live shot of the nail and shows on screen where the design will print. The ink is sprayed on at close range by the printer, but does not actually touch the fingernail.
The software comes with its own easy-to-install disc, (but requires that your computer to have Flash ActiveX installed - free from Adobe).
Patterns that are available include: pictures, logos, flowers, stripes, waves, and words. You can even upload your own images and use them. There are also patterns available for Easter, Halloween, Christmas, and other special occasions.
The full working setup is shown in the following 30 second advertisement:
Note that the cute pink colored laptop does not come with the Doll'd up nails kit, and you do need to use your own computer to run the software. (Unless you've got a particularly large Christmas Bonus and want to buy a pink laptop to match).
Doll'd Up does however come with three bottles of nail polish. One is white nail polish that users need to paint on their nails as a base. The second is a bonding material that is applied on top of the base. Finally, there is clear nail polish that is applied on top to protect the printed pattern. The only thing not included is nail polish remover.
So if you know a Barbie Girl, living in her Barbie World, then this is THE GIFT for her.
Enjoy,
Big Passy Wasabi