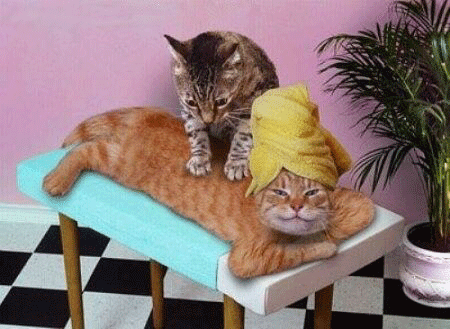 Image Source: http://www.swapmeetdave.com
Remember our two feline friends: "Neo" and "Morpheous" from the December Friday Funny:
http://passyworldofict.blogspot.com/2009/12/firday-funny-for-cool-cats.html
Well Tank's been downloading some massage classes for them, matrix style. They are now a couple of really cool and relaxed furry friends indeed.
The idea of getting a massage is to apply pressure to reduce tension and stressors, but somehow this dude might be over-doing it.
Image Source: http://www.fullermassage.com
This week at Passy World we have decided to look at the lighter side of Massage. Not the red light kind they have in Amsterdam, but
"Therapeutic Massage". The kind of massaging you might get at a holistic health center or the Physiotherapist.

Big Passy, being the reckless adventurous kind, has needed quite a
few sports medicine massages in his time, for various mishaps and their ensuing aches and pains.
Here's a really cute video of "Neo" after the download of the European Masseuse program:
So this massage stuff looks pretty good right?
Well how about your very own free online massage lesson from a pair of Gorillas?
-

WARNING: Do not try this at Home
Whenever you finish a course, (that you have invested a lot into), then its only right that you should try and get
yourself the best job possible.

And upon Graduation from Massage school, who knows you could even get a great job like this one:
So if you are into the business of therepeutic massages, then you might want to go through this little check list:
You Know You Might be a Massage Therapist if...
Your iron-grip handshake could make Chuck Norris cry.
You're combing the seashore and you find a massage in a bottle.
Your favorite Kung Fu movie is "Flying Fists of Relaxation."
You format your documents with pressure points.
You get on someone's very last nerve. And that's a good thing.
When it's "time to knuckle down," boy, do you mean it.
Your uncle throws his back out. And you throw it back in.
You relax more shoulders before 6 p.m. than most people do in their entire lives.
You're the strongest muscle relaxer available without a prescription.
You never rub people "the wrong way."
You have a padded kitchen table. With a nose hole.
Your voicemail is completely full - too many massages.
You never rip open your birthday presents. You squeeze them open.
Source: http://www.rasmussen.edu/programs/fun-massage-therapy.asp
How about a "full service massage" (No it's not what you're thinking) :
Or if that one was perhaps a bit too expensive and painful to endure, then how about a cheap "no thrills" Eastern European full service massage:
Now if you thought you'd seen it all, then what about the idea of paying around $100 US to get a Snake Massage in
the Holy Land!
Image Source: http://images.forbestraveler.com
At Ada Barak's spa in northern Israel, slithering reptiles don't give deep-tissue massages.

Barak figured out several years ago that heavy king and corn snakes produce a relaxing kneading sensation. For several years, she's
been entertaining guests at her farm where she cultivates rodent-eating carnivorous plants. Seems she has found an even stranger sideline that's a money spinner.

"People either like it a lot or they hate it," she told Time magazine.

Don't snake bag it till you've tried it yourself. Let a few of these reptilian relaxants wriggle their way up your spine and across your face, and see if this
is a de-stressor, or distressor.
Image Source: http://images.watoday.com.au
Finally: How does the world of modern computerised technology fit into all of this:
Japan with its robotical prowess seems to be leading the world in this particular area.
There have also been a few DIY attempts in the home to master the mechanical art of massage:
Image Source: http://thepirata.com
This video about some guys on coin operated massage chairs is very slow and boring to begin with, but has a surprise ending not to be missed:
That's about it for this week's Friday Funny. I've got to go give my texting thumb a bit of therapeutic work.
So let's finish up with a recent picture of yet another "Neo" versus "Agent Smith" encounter.

Perhaps "The One" is
a little too relaxed after the recent pawing of pressure point tension release?
Image Source: http://4.bp.blogspot.com
Enjoy,
Big Passy Wasabi