Image Source: http://wgtccdn.wegotthiscovered.netdna-cdn.com
Let's open this post with the 2011 Academy Awards Opening.
Naturally there's also the lovely ladies in their fabulous frocks walking the red carpet.
Image Source: http://clutch.mtv.com
Everyone just loves spotting all of the famous celebrity couples.
Image Source: http://roflrazzi.files.wordpress.com
And celebrities of all sorts do the walk.
Image Source: http://2.bp.blogspot.com
Here's a look at the 2011 Academy Awards Skit about Inception
Ricky Gervais has hilariously hosted the last two Golden Globes awards.
Here are some classic highlights from the 2010 Golden Globe awards.
(Warning: This clip does contain some adult themes).
The funniest things of all happen at the closed doors after parties.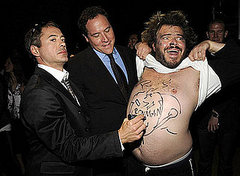 Image Source: http://media13.onsugar.com
That's it for this award winning post.
Enjoy,
Big Passy Wasabi