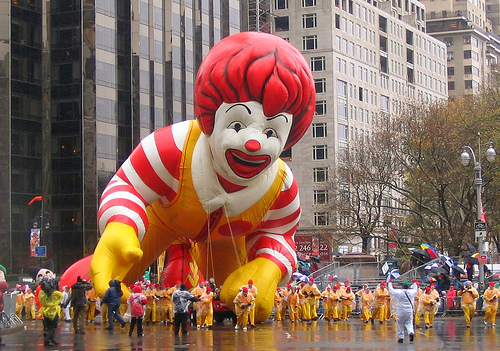 Image Source: http://img.xcitefun.net
This guy certainly knows how to turn any boring Saturday afternoon into a whole lot of fun.

Fun Things to Do at a Drive Through
1. Drive through the drive-thru in reverse and let your passenger order.
2. Ask the price of almost everything on the menu and then order something that you didn't ask the price for.
3. Tell the employee that your window is broken. Order and then pay with your door open. When the food comes, roll down the window and snatch your order from their hands.
4. Go to McDonald's and demand a big breakfast at 11:30 at night. Put up a fight.
5. Pay for a large order in 5 cent pieces.
6. Order in another language. (Be careful what neighborhood you're in).
7. When asked if they can take your order, tell them you are just window-shopping and drive on.
8. Laugh sadistically when asked if you would like ketchup.
9. Ask the cashier how they fit into that little box.
10. If they make you wait, make them wait when they come back on.
11. Demand to speak to the manager. When they come on, complain that you did not like the way the employee said, "May I take your order?"
12. When asked if they can take your order say, "Why, can I take yours?"
13. If they ask you to wait, order anyway and keep doing it till they yell at you.
14. Pretend your car has broken down. Ask for assistance moving it. When they come out, drive away.
15. Tell them you have to use the bathroom.
16. Order a cup of water and two napkins. That's it.
17. Don't order when they come on. Just sit there. If a line forms behind you, get out of the car and cause a scene.
18. When they hand you your food, hand them a bag with all the trash from your car in it.
19. Just stare at them when you pay and get your food. Don't break your stare.
20. Honk your horn the whole way through the line.
Colonel Sanders is certainly not amused.
Image Source: http://sheikyermami.com
The Colonel has won a lot of look a like contests in his time.
Image Source: http://images.cheezburger.com
And here is another win to the Colonel!
Image Source: http://images.icanhascheezburger.com
Oh Yeah! The Colonel does it again. (Winners are Grinners).
Image Source: http://images.icanhascheezburger.com
This is what it's like to be chicken of Colonel Sanders.
Image Source: http://images.cheezburger.com
The guys who made this next video must be using a soundboard to keep blurting out phrases from the computer into the telephone. Oh my goodness that lady was polite and patient!
In this next video, the "What-If-Show" guy does some prank Mc Donald's versus Burger King calls.
So what would happen if Ronald McDonald did verse Burger King in a wrestling match. Well ponder no longer because here is the answer right here.
A lot of people think that Ronald is pure evil.
Image Source: http://funnypicturesofpeople.com
But Big Bad Evil Ronald is certainly no match for Chuck Norris.
Take Away Humour
I
was just walking down the street, and I saw this restaurant called McDonald's Express. Let's see if we can try to wrap our brains around this concept -- this is a McDonald's, only faster. So, obviously, the McDonald's corporation think there are people out there saying to themselves, Oh I'd so love to go to McDonald's, but who has the time?
Joke Source: Comedian Andy Borowitz
Did you read about the couple that lost the $10 million in the McDonald's contest because their daughter was an employee? What a double whammy. They lose the $10 million, plus the embarrassment of having everybody know they've got a relative working at McDonald's
Joke Source: Comedian George Miller
A Mother and her five year old son were headed to McDonald's one day. On the way they passed a car accident.
As was the tradition when they see something terrible like that, they say a prayer for those who might be hurt.
The mother pointed and said to her son, "We should pray."
From the back seat she heard his earnest request: "Please, God, don't let those cars block the entrance to McDonald's."
Joke Source: http://www.basicjokes.com
Here is a clip from a BBC TV show that sheds some real light on typical take away ordering scenarios.
Might get some take away for dinner.

See you all next week.
Enjoy,
Big Passy Wasabi